Hong Kong Life Sciences Society (HKLSS) announces its collaboration with local craft beer brand Mak's Brewery to launch the limited edition of Honey+Goji Pale Ale, and Honey+Goji Carbonated Hops Tea. They will make their first appearance at 'Halloween Festival: The Lingering Fine Wine', a festival-themed event presented by Nan Fung Group between 28 and 30 October 2022. HKLSS hopes to connect life sciences with everyday life through the launch of these local brews.
Launching Science Brewed Craft Beer to Connect Daily Life
With craft beers going viral among the new generation, the chemical reactions that occur in the brewing process and the application of brewing principles are closely related to our daily lives, which echoes HKLSS' philosophy of fostering the connection between life science and everyday experiences.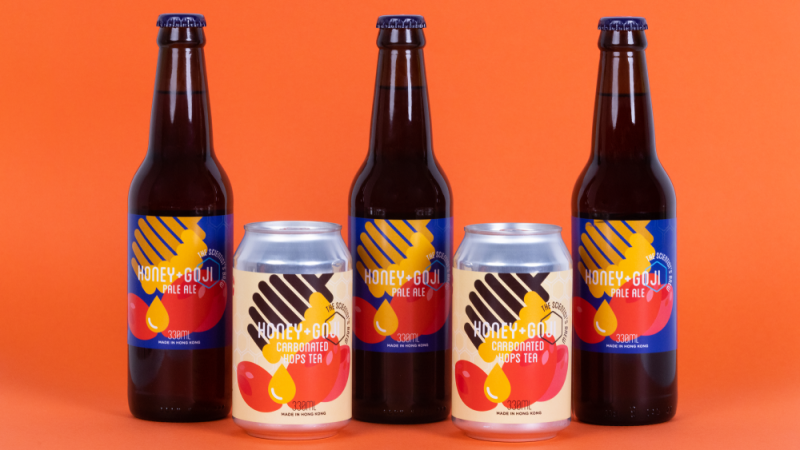 'The Scientist's Brew' Beverages
About 'The Scientist's Brew'
Two new beverages will be introduced at the event: Honey+Goji Pale Ale and Honey+Goji Carbonated Hops Tea.
Honey+Goji Pale Ale is made with a natural form of sugar - fermented honey, alongside other ingredients like water, malt, hops, yeast, honey and goji berries, containing several minerals and vitamins, including iron, calcium, potassium, magnesium, and vitamin B and C. This honey-made pale ale also has higher nutrient value and lower glycemic index than refined sugar. With benefits to the liver and eyes, Goji berries are added at the early stage of the brewing process to preserve bioactive substances and maximize the antioxidant effect. During the production, changes in water temperature will react differently with pH value, creating a variety of pale ale flavors.
Honey+Goji Carbonated Hops Tea is brewed with the process of tea making, featuring ingredients of water, tea leaves, hops, honey, goji berries and malic acid. From this non-alcoholic beverage, CO2 is released and forms beer-like bubbles, resembling the aroma and flavor of craft beer; honey is cooked to remove enzymes, and hops act as natural preservatives that help extend the shelf-life of the product and provide calming properties.
Visit Tasting Booth and Join Workshops for A Joyful Experience
HKLSS will run a tasting booth at the event, where the interns from HKLSS will share related brewing facts. To add more fun, participants can play a mini-game of identifying the taste of Pale Ale and Carbonated Hops Tea from different essential oils, and guessing the ingredients of the beverages.
To provide the public with a better understanding of the biochemical reactions that took place in the brewing process, HKLSS invited a brewer from Mak's Brewery to hold the 'Principles of Brewing and Tasting' workshop on Saturday afternoon. Participants will explore the process of beer making and techniques of craft beer tasting with registered participants.
Moreover, the public is welcome to attend the 'Beer Candle DIY' workshop for a delightful handcrafting experience. Under guidance from a professional instructor, registered participants can craft, scent, and color their one-of-a-kind 'Beer Mug Candle' by learning about the principles and attributes of handcrafted candles.
This public event is organized by the students from HKLSS Summer Internship Programs 2021 and 2022. They are university students pursuing biotechnology and nutrition-related studies who have spent 18 months designing, researching, sourcing, and negotiating for the event after being selected by HKLSS and completing a six-week full-time internship program.
For more details about 'Halloween Festival: The Lingering Fine Wine', please refer to this link and follow @hklifesciencessociety @intimeofhk @nanfungplace #HKLSS #TheScientistsBrew #LifeSciencesInEverydayLife #InTimeOf #InTimeOfFood #NanFungGroup #Resilientcity #InTimeOfHalloween #Halloween #localcraftbeernwine #popupmarket.