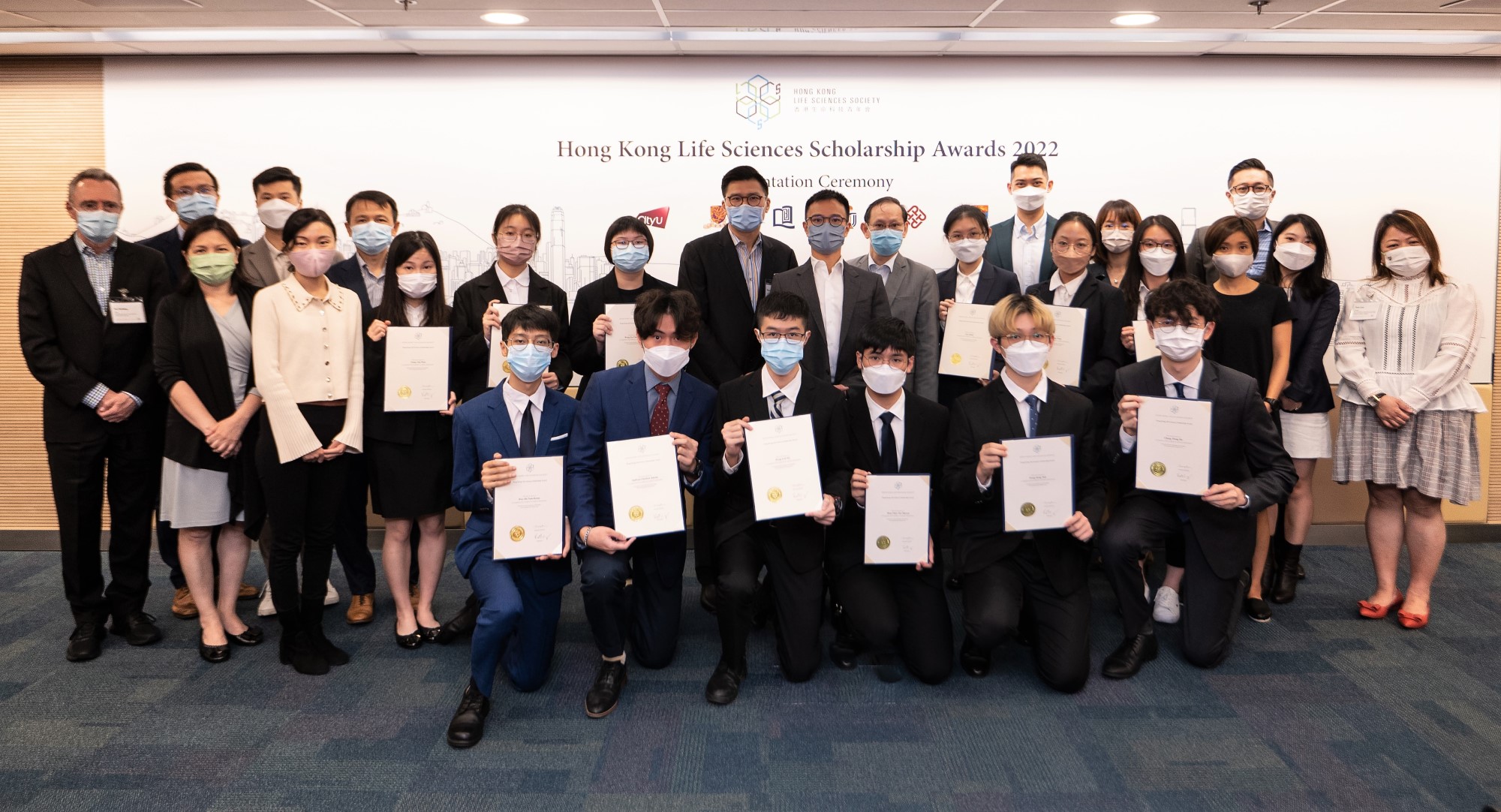 Hong Kong Life Sciences Society (HKLSS or The Society) established Hong Kong Life Sciences Scholarship Awards earlier, which are set to encourage outstanding undergraduate students to pursue a life sciences or biomedical science program in a UGC-funded institution. Thirteen awardees, chosen by the professional selection panel, are from The Chinese University of Hong Kong, Hong Kong Baptist University, The Hong Kong University of Science and Technology, and The University of Hong Kong. The Presentation Ceremony was held on 26 November 2022.
Hon Mr Duncan Chiu, The Legislative Council Member (Technology and Innovation), attended the Ceremony as the Guest of Honour to commend all the awardees. He stated in his speech, "The development of science and technology is highly valued both locally and in Mainland China right now, the Hong Kong government even aims to become an international centre for science and technology. We are therefore most in need of such talents. We are grateful to HKLSS for setting up the Scholarship Awards timely to nurture talents for the future science and technology industries."
After presenting the awards to the students, Mr Vincent Cheung, Founder and Chairman of HKLSS and CEO of Nan Fung Group shared that the focus of HKLSS in the coming years will be on facilitating the development of biotechnology. The Society will strive to develop young talents to help them integrate into the life sciences sector.
Representatives from different institutions also attended the Ceremony to recognize the outstanding academic achievements of the awarded students. They included Prof Ian Holliday, Vice-President and Pro-Vice-Chancellor (Teaching and Learning) of The University of Hong Kong; Prof Daniel Lee, Associate Vice-President and Chief Innovation and Entrepreneurship Officer of The Chinese University of Hong Kong; Dr Ann Lau, Assistant Dean (Education), Faculty of Medicine and Associate Director (Undergraduate Education) , School of Biomedical Sciences of The Chinese University of Hong Kong; Prof Kai Liu, Cheng Associate Professor of Science of The Hong Kong University of Science and Technology; and Dr Rosa Tang, Deputy Director of Student Affairs and Head of Career Centre of Hong Kong Baptist University.
HKLSS set aside HKD$1 million in the first year of the scholarship awards. Each awardee will receive a scholarship of HKD50,000 in the current academic year with other complimentary entitlements, including the access to the Society's Mentorship Scheme, and priority in enrolling onto the Society's Summer Internship Program.
All awardees expressed that they have benefited immensely from Hong Kong Life Sciences Scholarship Awards, not only in academic terms, but also in terms of learning more about the life sciences industry. Charlton Sullivan, one of the award recipients commented, "The Scholarship Awards are designed to equip life sciences students with knowledge and experience in the biotech sector. The Mentorship Program and Internship Scheme will provide us with an understanding of how biotech companies operate so I will be well prepared for my future career."
Another awardee, Charmaine Tsang expressed gratitude to HKLSS for the valuable learning opportunities that nurtured students to become life sciences professionals. She said, "Although my university offers plenty of educational resources, there are limited occasions to obtain real-world experience. The Scholarship Awards fill the gap by providing opportunities for students to apply their learning, so they can gain insights into areas of their future study and career development, including R&D, entrepreneurship and the healthcare sector."