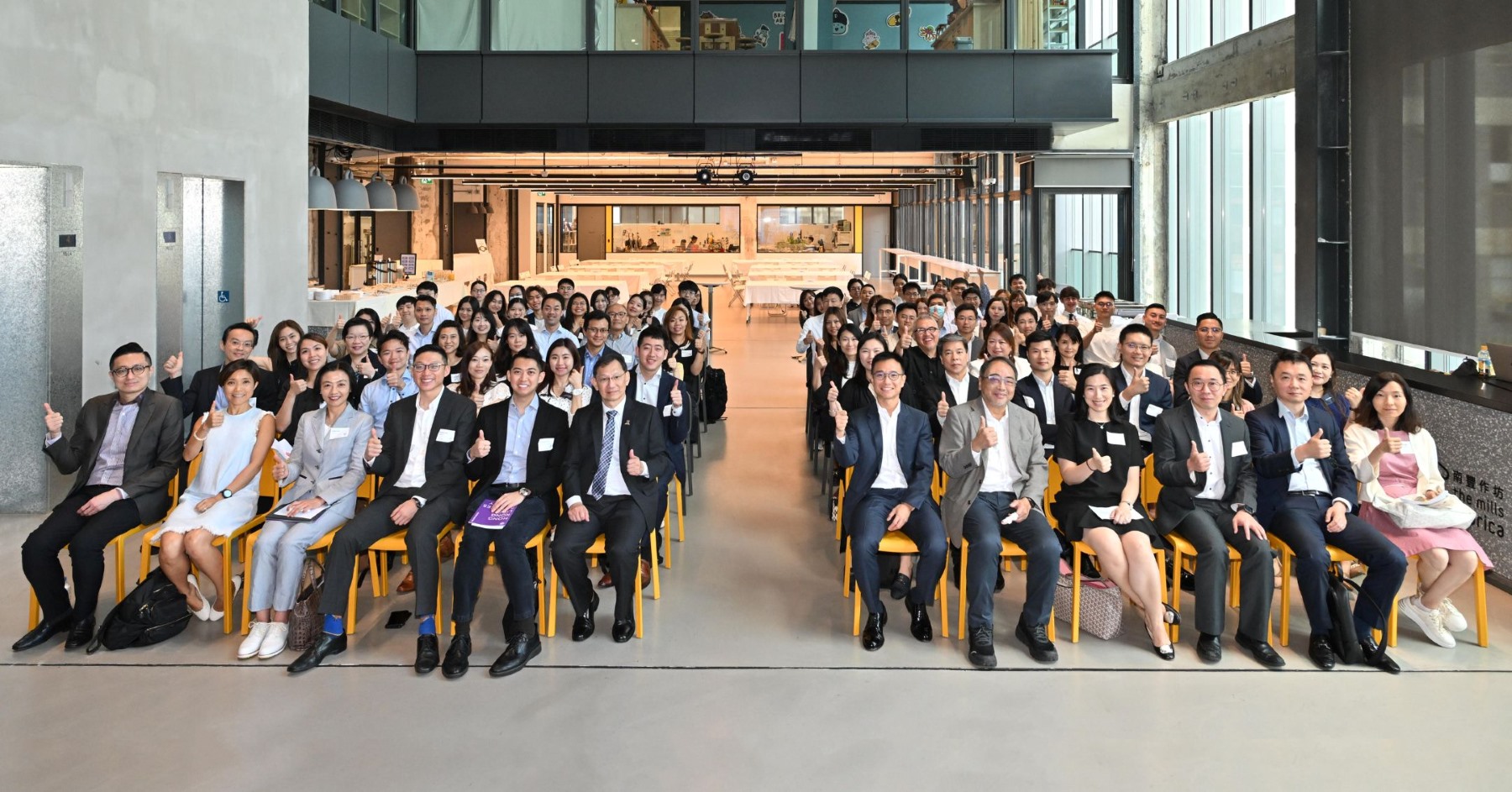 Hong Kong Life Sciences Society (hereinafter referred to as "the Society" or "HKLSS") has concluded its Summer Internship Program 2023 (the Program) with success on 30 August. A total of 16 companies from the biotechnology industry in Hong Kong and Shanghai participated in this year's Program, providing a six-week full-time work experience to 32 interns in both locations. During the Program, HKLSS organized over 40 hours of enlightening activities in Hong Kong and Shanghai, including visits, seminars and workshops, giving students a comprehensive understanding of trends within the field, with an aim of offering opportunities for young talents to put their knowledge into practice.
Interns Learn about Research Technology under the Guidance of Professor Dennis Lo
The highlight of this year's Program was a visit led by Professor Dennis Lo, SBS, JP, Vice-Chairperson of HKLSS and President of Hong Kong Academy of Sciences, to the Centre for Novostics founded by Professor Lo himself. The Centre plays a pivotal role in the international scientific research community. It aims to develop cell-free nucleic acid-based diagnostics in blood and other body fluids, particularly around prenatal diagnosis and cancer diagnostics, with cutting-edge molecular diagnostic techniques. These research areas will accelerate the application of liquid biopsy and promote Hong Kong as a leading molecular diagnostic center in the world.
During the visit, Professor Lo introduced the technologies developed for single-gene disorders and other pregnancy-related conditions, and demonstrated the research equipment. For students, it was an invaluable opportunity for them to observe up close innovative technologies in science. In addition to enhancing their professional knowledge, it also stimulated their enthusiasm for scientific research, making it a fruitful learning experience. After the visit, Professor Lo had lunch with the interns and shared with them some anecdotes and insights on his journey of scientific research.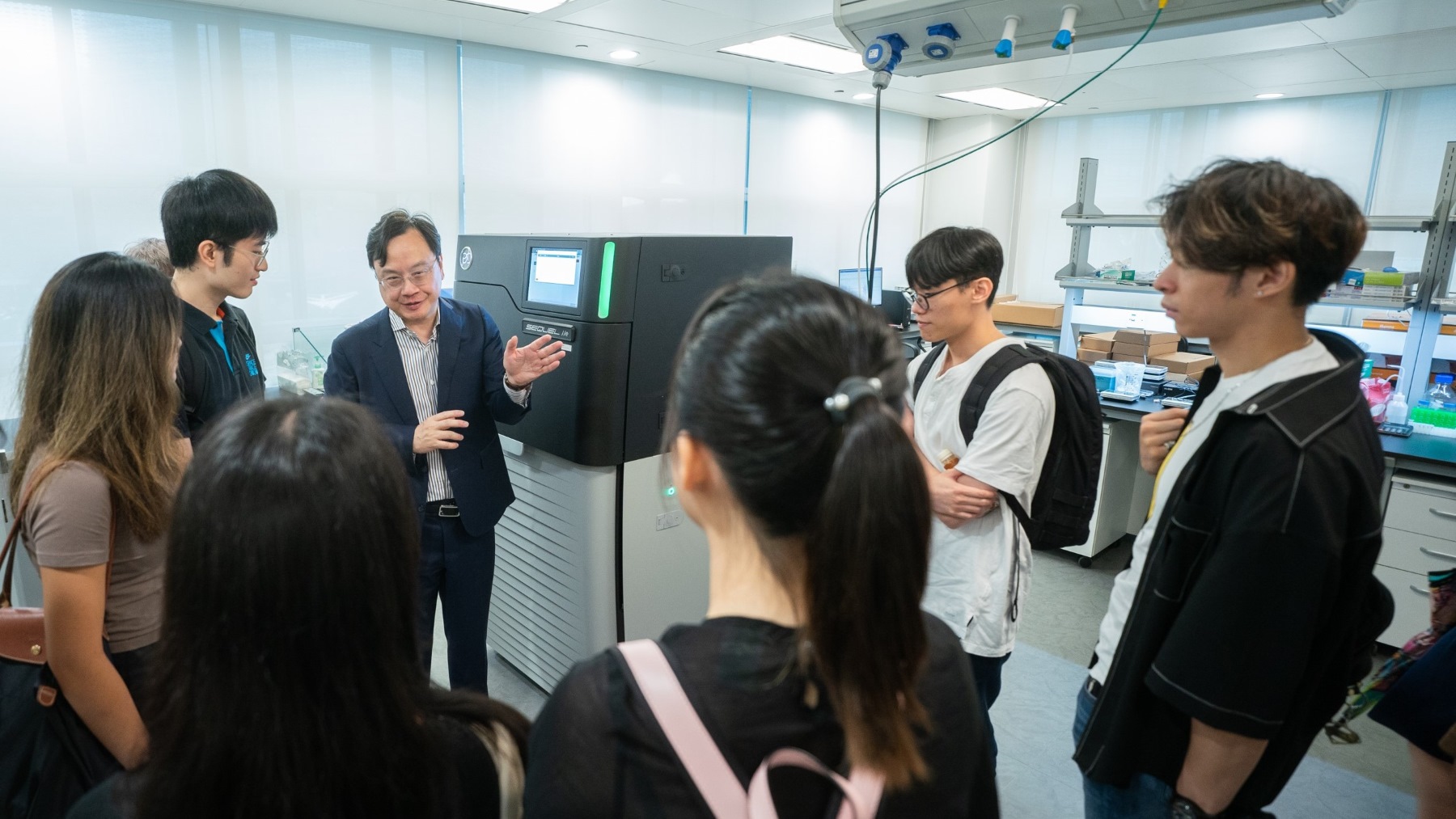 Professor Lo guides students during the visit to his Centre for Novostics
Enthusiastic Response from Renowned Enterprises in Hong Kong and Shanghai
Known for its mission of nurturing young talents, the Program has received overwhelming response since its inauguration in 2019. This year, HKLSS selected 32 students from various institutions in Hong Kong and overseas from over 300 applicants. These students were received internships from leading medical, pharmaceutical, venture capital and biotechnology companies in Hong Kong and Shanghai and were provided with opportunities to experience first-hand the innovative development of the fields.
The Program was also well supported by related industries. Participating companies include multinational corporations such as Arctic Vision, AstraZeneca, Delos Capital, Nan Fung Life Sciences, Simcere Pharmaceutical, Zhaoke Ophthalmology and others.
To encourage applications for the Program, HKLSS collaborated with local and overseas institutions such as City University of Hong Kong, The Chinese University of Hong Kong, The Hong Kong University of Science and Technology, The University of Hong Kong, Imperial College London, University College London, University of Oxford and The University of British Columbia to promote the Program on campus. HKLSS also assisted those in need to apply for funds provided by the HKSAR Government under the STEM Internship Scheme, supporting more young people who are interested in developing their career in related fields to participate in the Program, which is in line with HKLSS's mission of bringing together life sciences talents.
Exciting opening events with industry leaders
Officially launched on 27 June, the Program commenced with an opening ceremony held in Hong Kong, which was graced by the presence of various distinguished guests: Ms Lillian Cheong, JP, Under Secretary for Innovation, Technology and Industry of the HKSAR Government gave an opening speech while Mr Vincent Cheung, Founder and Chairman of HKLSS extended a warm welcome to all participants. Professor Lap Chee Tsui, GBM, GBS, JP, Member of the Advisory Board of HKLSS and Founding President of The Hong Kong Academy of Sciences also gave a keynote speech. Professor Helen Meng, Director of Centre for Perceptual and Interactive Intelligence of The Chinese University of Hong Kong, Mr Alan Cheung, Senior Director of Trust and Artificial Intelligence Technologies of ASTRI , and Ms Cintia Nunes, General Manager and Head of Asia of The Mills Fabrica, participated in the discussions.
On 30 June, the Program set off to Shanghai for a welcome dinner, during which Dr Jay Mei, Member of the Advisory Board of HKLSS and Founder, Chairman and CEO of Antengene, and Dr Eddy Wu, Founder and CEO of Arctic Vision, were invited to deliver speeches.
Diversified Activities to Broaden Students' Horizons
The Program was packed with diverse activities. Apart from the placement, interns also participated in a number of guided visits to companies in Hong Kong and Shanghai, including the Shanghai headquarters of the internationally renowned pharmaceutical companies Roche and AstraZeneca, as well as MobiDrop, providing the interns with a comprehensive survey of the development opportunities in the industries.
In addition, HKLSS organized seminars on various topics and invited industry elites to share and exchange ideas with the interns to broaden their horizons. The speakers included Ms Gladdy He, Member of the Advisory Board of HKLSS and Founder and CEO of Become Consulting, and Mr Michael Chu, Associate Director - Life Sciences, Business and HR Support of Links International. They gave an overview of the industry in mainland China and Hong Kong, as well as the career prospects for graduates.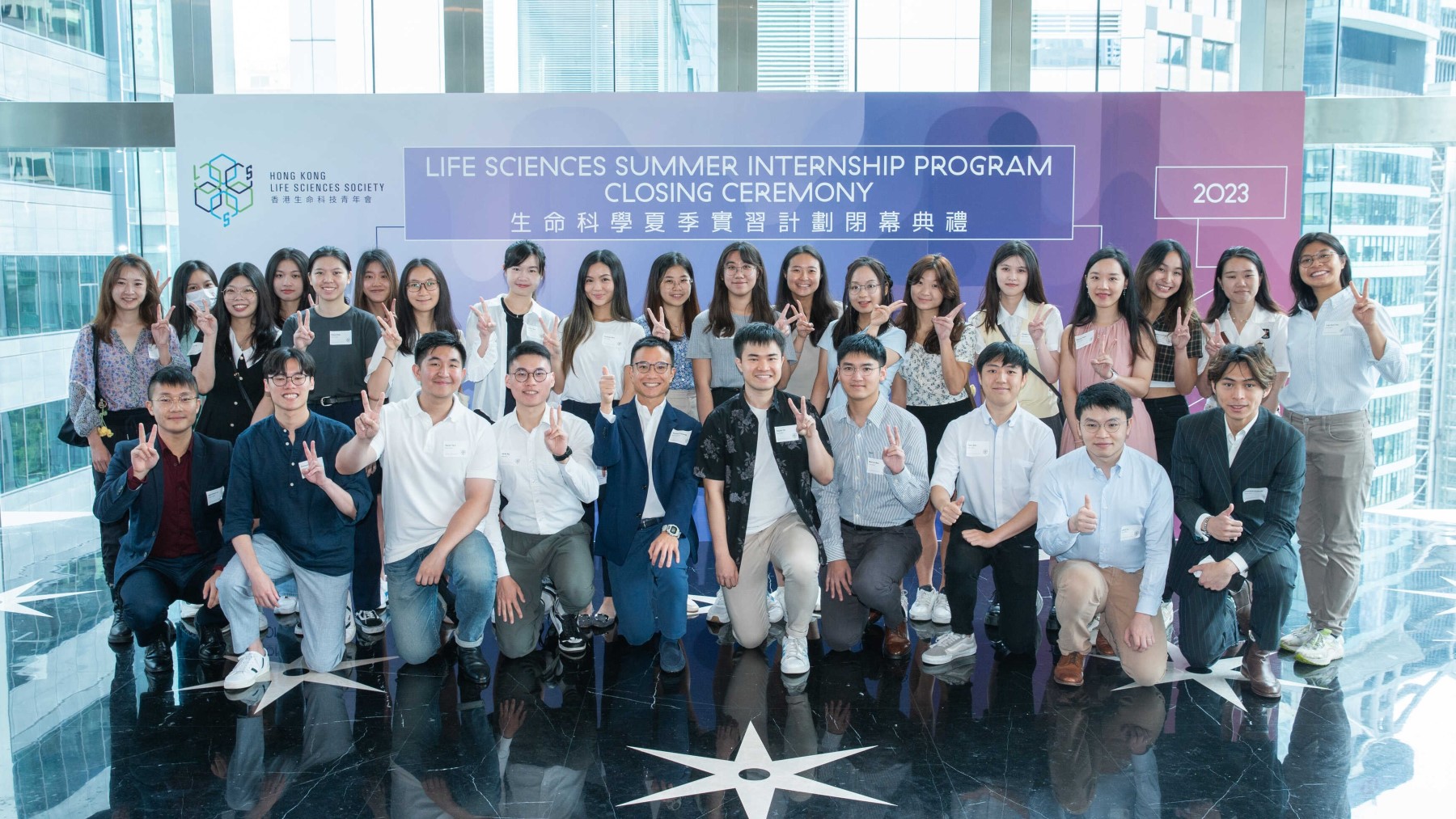 Mr Vincent Cheung, Founder and Chairman of HKLSS, with the interns
Acquiring knowledge and seizing industry opportunities
Mr Vincent Cheung, Founder and Chairman of HKLSS, said, "We hope that our interns will be exposed to different facets of the industry and that they can explore career options beyond academia." The life sciences industry is full of opportunities. Graduates can work not only in research but also in other professions such as business development, investment, policy research, testing or marketing. The Program has deepened students' understanding of the industry and helped them establish a network within it.
HKLSS is approaching its fifth anniversary. As always, the Society endeavours to nurture talents in life sciences and will strive to expand the Program to more regions. In doing so, the Society aims to build a dynamic life sciences ecosystem and address the lack of locally funded internships.