Biotech Experts Gathered to Share Industry Insights Hong Kong Life Sciences Society's Mentorship Scheme 2021 Now Opens for Application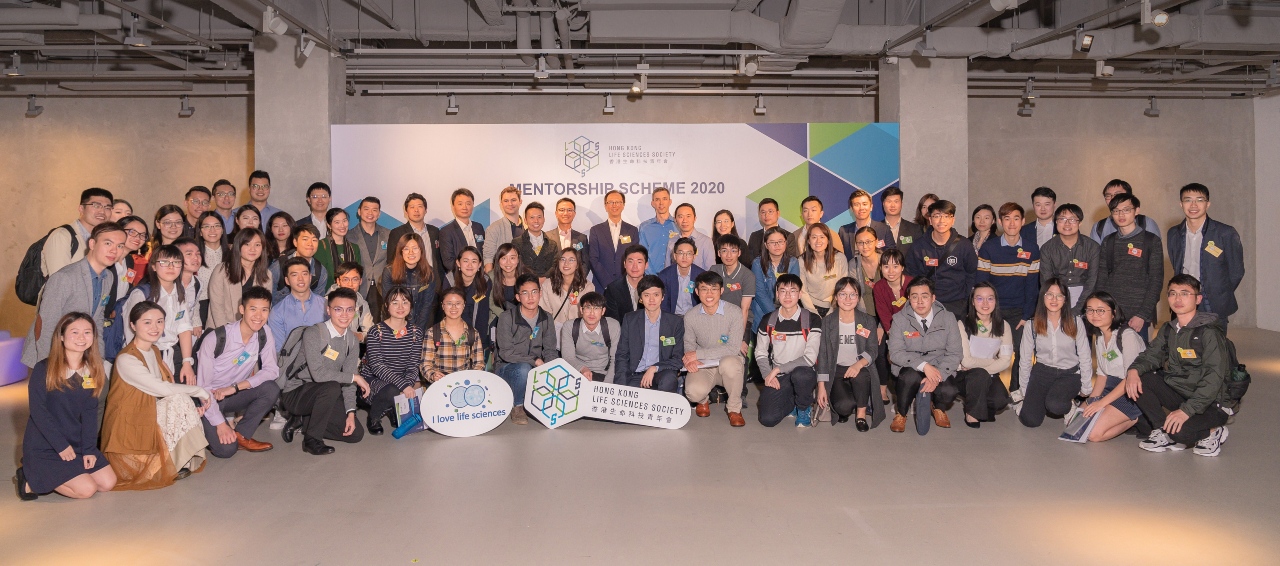 Hong Kong Life Sciences Society (HKLSS or this society) aims to attract, cultivate and retain talent in Hong Kong's life sciences and biotechnology sectors. As one of the signature programs of HKLSS, the Mentorship Scheme sets to provide university students and young industry practitioners with opportunities to share their challenges, listen to their mentors, and work together to find a solution to a workplace or study issue. By the end of the mentorship, mentees are expected to equip themselves with a study or career plan, workplace knowledge and the soft skills that many life sciences employers look for in candidates. All our mentors take the lead to work hand-in-hand with their mentees to set goals in initial meetings and offer useful advice to the mentees' overall development.
Gather Industry Leaders to Strengthen the Mentorship Experience
Our mentors belong to industry leaders, spanning across consulting, data analysis, investment, finance, healthcare, law and compliance and non-profit organizations. Mentees are carefully selected and encouraged to step out of the laboratory, sharpen interpersonal communication, and unleash their potentials. During the scheme, every mentor will be guiding not more than two mentees, ensuring the effectiveness and the quality of the mentoring relationships. On top of that, networking events including kick-off ceremony also provide mentees with a platform that enables them to meet with more industry experts, practitioners, and researchers. It creates opportunities for mentees to expand their network, not only with the biotech experts but also the peers within the industry.
To keep both sides on the right track during the whole process, three to four meetings between mentors and mentees will be scheduled. Mentors will offer advice to guide mentees on their career direction based on the mentee's preference, strengths and developmental needs as well as skills, values and interests.
It is worth mentioning that our Mentorship Scheme is also available for e-mentoring. If the assigned mentor is not usually residing in Hong Kong or the mentee is studying abroad, e-mentoring can be an effective and ideal solution for both sides.
The Mentorship Scheme last year invited industry experts including Mr. Vincent Cheung, Chairman of HKLSS, Mr. Antony Leung, Chairman and CEO of Nan Fung Group, Professor Yuen Kwok-Yung, Chair of Infectious Diseases, Department of Microbiology, The University of Hong Kong, Dr. Chun Wu, Managing Director of Boston Consulting Group, Professor Tom Cheung, SH Ho Associate Professor of HKUST's Division of Life Science, and Ms. Irene Chu, KPMG Partner, Head of New Economy and Life Sciences Hong Kong as our mentors.
Mr. Vincent Cheung, Chairman of HKLSS, said: "As one of the fastest-growing industry clusters in Mainland China and globally, biotech is well-placed to give new impetus to the development of Hong Kong, providing our young people with new horizons and ample career opportunities. The Mentorship Scheme is not simply a career counseling program. Through the regular communication between mentors and mentees, mentees will be able to obtain professional insight and experience imparted from mentors, allowing mentees to understand various career options in the life sciences industry."
Positive Feedback Received and the Mentorship Scheme 2021 is Now Open for Application
The Kick-off Ceremony of the first Mentorship Scheme was held in The Annex, Nan Fung Place in Sheung Wan in January 2020 which attracted more than 50 mentees, 20 mentors, and 10 advisory board members of HKLSS. The mentees from the first cohort said that one-on-one guidance laid a good foundation for career development, and their relationship expands the professional network for mentees. Gege Yang, a mentee of the Mentorship Scheme 2020, said: "My mentor gave me useful career advice and suggested several pathways I might take before my PhD graduation which gave me a clear direction and benefited a lot."
The Mentorship Scheme 2021 now accepts online application from 5 October until 20 November 2020. The Scheme is open to all undergraduate and postgraduate students, aged 18 or above, who are studying life sciences or a related academic discipline. Fresh graduates will also be considered on an individual basis.