HKLSS launched a series of webinars on Coronavirus with sharing from experts in both academia and the biotech industry. The series began with a basic understanding of Coronavirus, expanded to more specialized topics, and ended with a sharing on life sciences early career opportunities.
Each 60-minute webinar includes a speaker's presentation and a Q&A session.
Webinar Schedule
| Date | Time | Topic | Speaker | Status |
| --- | --- | --- | --- | --- |
| 25 Mar | 11:00am | COVID-19: where are we? | Prof. Keiji Fukuda | Completed |
| 29 Apr | 11:00am | Diagnosis | Prof. Leo Poon | Completed |
| 13 May | 11:00am | Social distancing & social media | Dr. Tom McDonald | Completed |
| 3 Jun | 11:00am | Characteristics of the SARS-CoV-2 genomes and the molecular epidemiology of COVID-19 | Prof. Stephen Tsui | Completed |
| 10 Jun | 8:00pm | Research in cancer metastasis & responding to COVID-19 | Prof. Denis Wirtz | Completed |
| 24 Jun | 8:00pm | Life sciences early career | Dr. Cecilia Chui | Completed |
Recorded Webinars (#1-6)
https://www.hklss.org/news-hub/photo-video-gallery
#6 of 6 Life sciences early career [COMPLETED]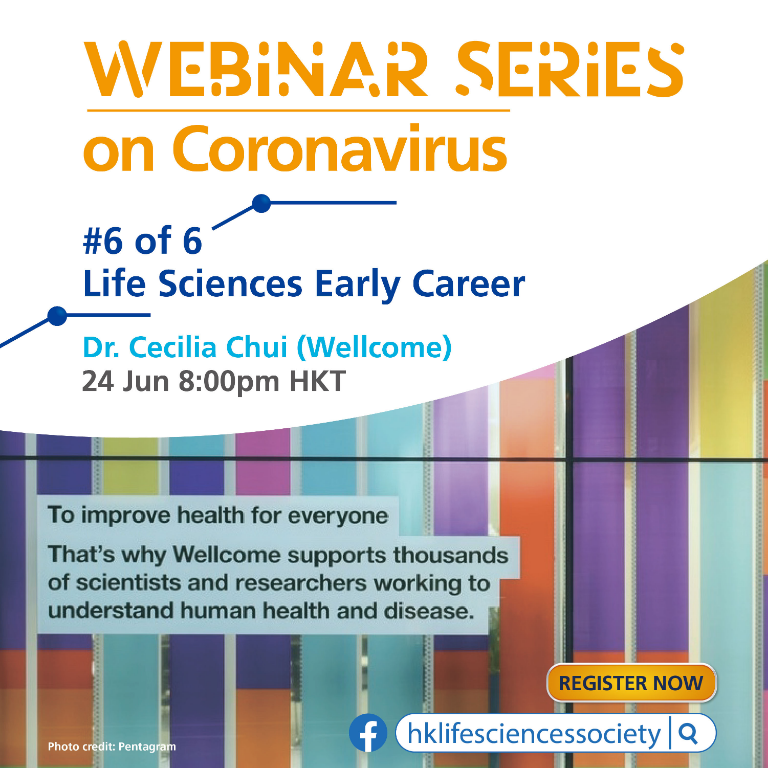 Date:
24 Jun 2020 (Wed)

Time*:
Hong Kong 8:00PM (GMT+08:00)
London 1:00PM (GMT+01:00)
New York 8:00AM (GMT-04:00)
Sydney 10:00PM (GMT+10:00)
*include a 30-min speaker's presentation and a 30-min Q&A session

Speaker:
Dr. Cecilia Chui BSc Imperial; DPhil Oxon
Cecilia Chui is a research advisor at Vaccines team at the Wellcome Trust London. Established in 1936, Wellcome has an endowment of over US$33 billion making it one of the wealthiest foundations globally. It is the largest provider of non-government funding for science research in the UK, and is consistently ranked as one of the biggest funding providers in the world.

At Wellcome, Cecilia involves in the team's strategies and activities on controlled human infect models since 2017. Prior to joining Wellcome, she has worked as a consultant on pharmaceutical market access and as a postdoc scientist (HIV-1 vaccines) in Oxford. Cecilia was born and studied in Hong Kong until she moved to London in 2004. She holds a DPhil in Clinical Medicine from Oxford University, and a BSc in Biochemistry from Imperial College London.

Language:
English

Registration:
--- ---

Technical Requirement:
https://support.zoom.us/hc/en-us/articles/201362023-System-Requirements-for-PC-Mac-and-Linux

Enquiries:
Tel: 2825 7319
Email: enquiry@hklss.org