This dialogue series aims to foster discussion among academics, practitioners, policy-makers and students through inter-disciplinary dialogues at the intersection of life sciences, big data, law, finance, health-tech and wellness.

UPCOMING EVENT:
Maximizing Human Potential in Urban Centers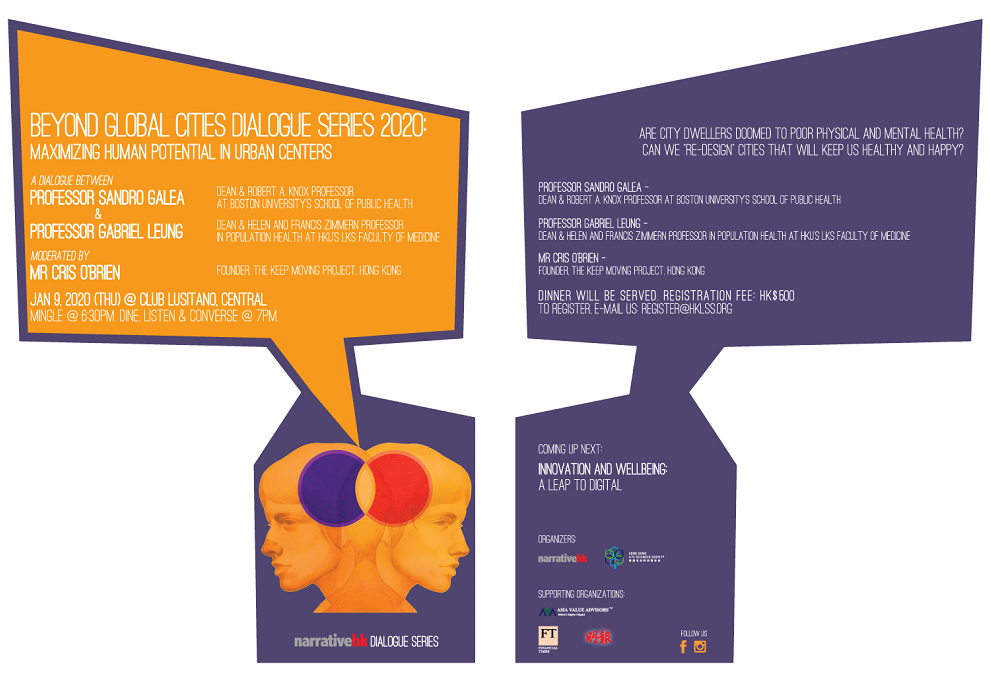 Date:
9 January, 2020 (Thu)
Time:
6:30 – 9:15pm (Pre-dinner drink at 6:30pm; dinner served at 7:00pm)
Venue:
Club Lusitano
16 Ice House Street
Central
Introduction:
Are city dwellers doomed to poor physical and mental health? Can we "re-design" cities that will keep us healthy and happy?
The world around us is changing, and global health researchers are at the forefront in trying to better understand the reasons for shared urban challenges, including ageing population, income inequality, overloading health care system and infectious diseases. Our speakers have been working with cross-sector partners in industry, government, the third sector and academia to address these challenges and to propose innovative strategies and solutions.
Speakers:
PROFESSOR SANDRO GALEA
Dean & Robert A. Knox Professor at Boston University's School of Public Health
Sandro Galea, a physician, epidemiologist, and author, is dean and Robert A. Knox Professor at Boston University School of Public Health. He previously held academic and leadership positions at Columbia University, the University of Michigan, and the New York Academy of Medicine. He has published extensively in the peer-reviewed literature, and is a regular contributor to a range of public media, about the social causes of health, mental health, and the consequences of trauma. He has been listed as one of the most widely cited scholars in the social sciences. He is chair of the board of the Association of Schools and Programs of Public Health and past president of the Society for Epidemiologic Research and of the Interdisciplinary Association for Population Health Science. He is an elected member of the National Academy of Medicine. Galea has received several lifetime achievement awards. Galea holds a medical degree from the University of Toronto, graduate degrees from Harvard University and Columbia University, and an honorary doctorate from the University of Glasgow.
PROFESSOR GABRIEL LEUNG GBS, JP
Dean & Helen and Francis Zimmern Professor in Population Health at HKU's LKS Faculty of Medicine
Gabriel Leung is the fortieth Dean of Medicine (2013- ). He was the last Head of Community Medicine (2012-13) at the University as well as Hong Kong's first Under Secretary for Food and Health (2008-11) and fifth Director of the Chief Executive's Office (2011-12) in government. Leung is one of Asia's leading epidemiologists and global health exponents, having authored more than 450 scholarly papers with an h-index of 60 (Scopus). His research defined the epidemiology of two novel viral epidemics, namely SARS-CoV in 2003 and influenza A(H7N9) in 2013. He also led Hong Kong government's efforts against pandemic A(H1N1) in 2009. He was founding co-director of HKU's World Health Organization (WHO) Collaborating Centre for Infectious Disease Epidemiology and Control (2014-18). Leung is an Adjunct Professor of Peking Union Medical College and Adjunct Professorial Researcher of the China National Health Development Research Center. Locally, he is an elected council member of the Hong Kong Academy of Medicine (2012- ). He is a member of the Hospital Authority (2013- ) and the University Grants Committee (2014- ).
Moderator:
MR CRIS O'BRIEN
Founder, The Keep Moving Project, Hong Kong
Cris O'Brien is a fitness professional based in Hong Kong. Having worked professionally as a consultant at a top-tier consultancy and within a Fortune 500 company as a Brand Finance Director, he has now turned his passion into his profession. He is currently the owner of Hong Kong's first CrossFit gym, CrossFit Asphodel, a director of a functional fitness academy, Trybe. His latest project, The Keep Moving Project, is a non-profit organization operating under the ethos that "health is a right, not a luxury" and will focus on wellness education and instruction.
Language:
English
Registration:
E-mail to register@hklss.org
Enquiry:
Tel: 2825 7319